The GoYurt Story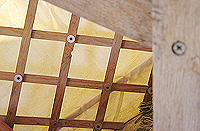 The first yurt we spent time in was on a hot, dusty playa at Burning Man. A friend from Oregon brought one he had built using a lot of found materials. About fourteen feet, with hand cut bamboo for the roof poles and an old bicycle wheel for the roof ring, it was a unique take on a yurt. We spent a good bit of time that week relaxing there with friends. I was amazed at how it felt being inside a yurt. The circular form, the repetition of the lattice, the open space that seemed much larger than the boundaries of the canvas...all of it induced feelings of warmth and comfort. Yurts make you feel good!


After that my wife and I knew we wanted a yurt of our own. I had read about them in the past, but I really started studying everything I could find about these portable homes. We looked through the yurt plans in Paul King's great book and spent time studying yurt designs from around the world. It was interesting to see all the variations on the same basic structure. I thought a lot about what we wanted in a yurt and how we would use it. We really enjoyed camping, spending our vacations at Burning Man or relaxing on remote beaches of Baja. We wanted to have a yurt that was lightweight, packed small, and was easy to set up.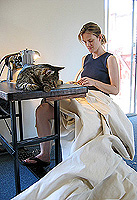 I started looking at yurts for sale. I noticed that "modern yurts" built here in the United States were large, heavy, and designed to be used as full-time cabins and homes. Geared towards satisfying building codes, they seemed to be moving well beyond the highly-portable, nomadic shelters they were based on. Some even had track lighting and ceiling fans installed in them! I do think that these yurts can make great low-impact housing, well suited for someone looking for a more permanent structure, but even the smallest offerings of these companies were too heavy, bulky, and overbuilt for what we wanted.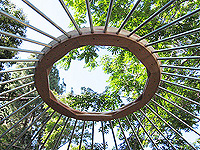 I had also heard a common theme among yurt owners...erecting one can sometimes be difficult. Making sure the wall is set to the right height and getting the roof ring in the air without getting whacked on the head by a falling pole were common issues with these structures. I had even read stories from travelers in Mongolia who observed similar problems watching families move their traditional yurts, or gers.

I began to think about how I could use modern materials and engineering to make a yurt that was really easy to setup, pack, and transport. We wanted a yurt that was so easy to use that we wouldn't hesitate to take it with us, even if we were only camping for a couple of days.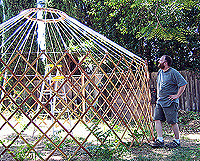 It was with these concepts in mind that I designed and built our first yurt in 2003. Sheila was pregnant with our first child, so we decided to make a 16 foot yurt in anticipation of our growing family (in hindsight, I think a 13 foot yurt would have been plenty). I tested many of my ideas, such as using aluminum roof poles to save weight and bulk.


We finished the yurt just in time for Burning Man that year. It easily fit on the roof rack of our car, and when we got there setup was quick and easy. We had a few strong windstorms that week -- the yurt hardly noticed them. During the hotter days we pulled the canvas up on the bottom and opened the roof flap to keep things cool. We were really enjoying our new round home!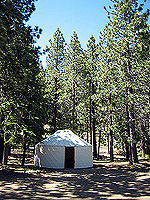 Many people stopped by to look at the yurt. It was great to see the reactions of people who had never seen a yurt before; they were so excited and interested. I gave many "yurt tours", explaining the features that made these such wonderful structures. A lot of people that week asked us if we had thought about building more.

We continued to go camping with our yurt after that trip and we always got really positive feedback from people who stopped by. We started seriously thinking about building yurts for others. With the encouragement of friends and family, and taking the lessons learned from our first yurt, we started the journey that has resulted in the structures you now see offered here at GoYurt.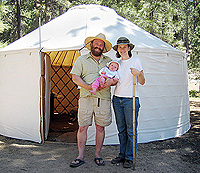 The last 3 years have been spent prototyping, designing, and testing what we think are among the best portable structures available. Uncompromising in materials, design and quality, a GoYurt shelter is a unique evolution of the traditional nomadic yurt.

We have spent countless hours focusing on every aspect of our yurts, from stress testing joints and materials, to ensuring there is no loose hardware to misplace or forget to take with you on a trip. Rejecting the mass-produced, low-quality and disposable nature of so many products today, GoYurt shelters are finely crafted to be durable and beautiful for years to come. We hope that our yurts bring you as much enjoyment and peace as they have brought to our family.